Some Tweeted thoughts on offence and why some people get very defensive about people pointing out offence – potential or already realised.
Longer thoughts in this post: Offended? Good.
Offended? Good. It's just an emotion. We can anger people, give joy – and offence. From a little to a hell of a lot.
Not sure people even know what offence means half the time. They hear it and think "pointlessly irritated person!" No…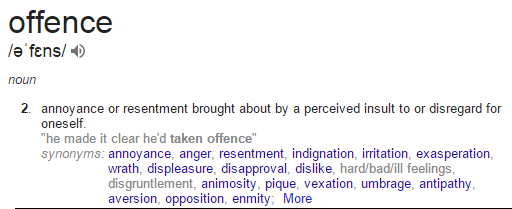 All emotions have range. We can be happy about a great cup of tea, or a major life achievement.
From sad I dropped my biscuit, to someone has died.
Angry about worldwide abuse of childrens' rights, down to chipping a favourite mug.
"Offended" does not have to mean screaming in pain.
It can be merely the equivalent of making a face at a bad smell you've noticed. Not traumatising. But elicits a slightly negative reaction.
So when someone says "that's a bit offensive, yeah" – don't say "omg don't overreact no it isn't you're wrong". Think about it for a minute.
We can sweat the small stuff if we want – life is a collection of small things. When bad small things pile up on certain people/groups, argh!
Maybe they just mean it's a simple error, no blame, no rage – easy fix, a little good done in the world; it all adds up. Like the bad stuff does.
So don't tell people how to feel, or react, just because you can't possibly imagine finding that smell unpleasant. Trust in other humans.
If one person says something, be sure there are others.
But don't assume just because someone points something out that they have ill feeling towards you, assume anything about your overall character or intent, or are inconsolable.
Unless you go on to argue with them pointlessly instead of just making an easy fix/apologising – then they might be well within their right to start assuming.
---
It's OK Not to Be Offended But Not OK to Be Offended That Others Are Offended
"I hate the Internet." It's something I utter on almost a daily basis while doing my job-my job on the Internet-which may make you wonder why I continue to do said job. You see, I also love the internet. Weird, I know. 
JILL PANTOZZI