A talk by Richard Burdett on the changing face of advertising during his career, and what kind of untruths we should actually be concerned about.
Given today I've been wound up by Brands jumping on the current advertising Bandwagon of '50 Shades' (because it glorifies abuse and could be doing some real damage – I wish brands would place their profits a bit lower in importance but that's a pipedream) – here's some stuff from last night's skeptics meeting on Advertising.
@noodlemaz – Holy crap @TwiningsTeaUK, you've decided to use a franchise that glorifies sexual abuse? Why? https://twitter.com/TwiningsTeaUK/status/562288644078469120 … 3 Feb 2015
Update: a fine example of integrity at a company who does care about its customers' views, unlike others I could mention (Audible, OPI, Surf…)
---
Hey there's me tweeting on the left next to @zeno001 – who knows loads about the ASA. Follow him!
Round-up of my tweets (#sitp):
Great emphasis on importance of context – things shocking to us now because our context & background info is different
Also pointing out the "sacrosanct" say of editorial on advertising – strict separation of copy and last say-so. Different now…
Ah my mum's told me this. Credit was such an odd thing: getting money without having money. "That is the financial crisis" – yep.
Ads used to consist of an image and 200-300 words. Needed art director & copywriter. Now just creative concepts. "No one can write!"
Things swung away from informing and more to "let's make them love our #brand" eg Levi's, use of music came in.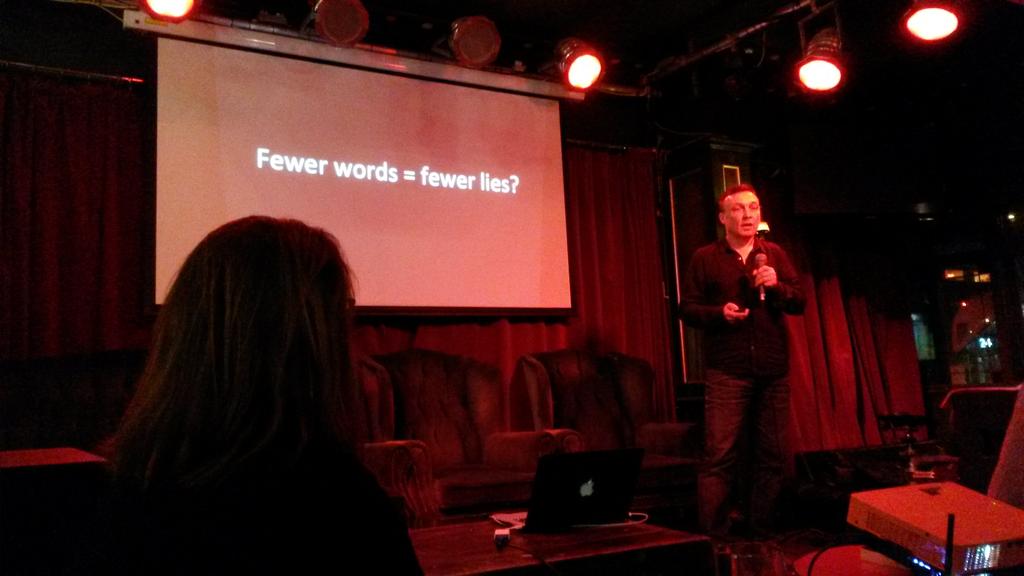 [re: image "Fewer words = fewer lies?"] We hope. But "I have never sat in a room with a bunch of people scheming about a lie"
Advertising standards authority (ASA) 2013, ~ 4100 ad amendments for ~31k complaints. Mostly print ads.
"As a consumer your worries shouldn't be lies, but these 3: transformation, representation and social responsibility"
"Native advertising" the threat to "church/state" separation of copy/ads. Buzzfeed, Mail etc embedding paid-for messages into content
Because of this branded ads/copy intermingling, we are losing trusted editorial spaces
Advertising has reversed what the Internet promised us? Infinite discovery… Now echo chamber shows us what we like based on our data
Advertising is a mess. Like financial crisis, people are paying for, selling things they don't understand, much of which is nonsense
Growing up with analog actually massive asset to understanding media. Young people don't understand their digital footprints
"The only way to participate in this world is to give our identities away"?" It's only advertising, nobody dies?
But innocent mistakes and bad decisions can now haunt us forever due to permanence of online… Stuff. Qs later.
Marketing become more quantitative than qualitative? Lost something? How many people clicked X vs how much did X ad change opinion/image?
It still happens. "what about homeopathic…" do you know what it is? "yes" what does it mean? "Really small amounts of…" Nooope. Nowt.
---
Re: a post-talk discussion with a new attendee
2015 has served us a perfect if somewhat terrifying example of the kind of control advertisers can now exert over our media.
Why I have resigned from the Telegraph
The coverage of HSBC in Britain's Daily Telegraph is a fraud on its readers. If major newspapers allow corporations to influence their content for fear of losing advertising revenue, democracy itself is in peril.
OPENDEMOCRACY